Al otro lado de la calle está el metro de Londres que nos conecta con los mejores sitios y atracciones turísticas como Westminster (a solo 20 minutos en metro).
Estamos frente al centro comercial más grande de Europa, una conexión directa de metro de Londres con Oxford Street y un corto paseo desde el mercado Portobello Road de Notting Hill.
Bonita estructura con un excelente bar para el desayuno.
El área de la cocina es pequeña, pero las cortinas hacen espacios realmente privados para las camas.
Todo es perfecto, por otra parte, los dormitorios que se colocan encima de una barra / caja no deben tener un sueño ligero.
Muy buen hostal con un personal super agradable y sonriente.
....
Buena relación calidad-precio, habitación y baño: WC común limpio, acceso seguro con presencia del personal las 24 horas del día, a los pies del metro con línea directa al centro de Londres, desayuno muy bueno incluido en el precio de la habitación, Acceso a una terraza con posibilidad de barbacoa (acceso limitado para la tranquilidad de otros huéspedes en la noche).
Un personal muy acogedor, muy buenas hamburguesas (servidas con deliciosas papas fritas), variados desayunos y desayunos. El metro está justo en frente y ofrece fácil acceso a muchas áreas de Londres. En cuanto al ambiente del "albergue juvenil", encontramos un período de baja afluencia de jóvenes. Ligera decepción que no depende del propio albergue.
Casa perfecta, personal muy amable y sonriente.
Ubicación cerca del metro, tiendas y opciones para comer.
Es fácil viajar más lejos aprovechando las excelentes conexiones de transporte de Hammersmith, con muchas rutas de autobús y líneas de metro que acceden a todas las partes de la capital. Tome el metro directo al aeropuerto de Heathrow o haga un corto viaje en dirección contraria a South Kensington en busca de famosos museos o Westminster en busca de los principales lugares de interés.
Buena situación cerca del transporte, buenos beneficios en general.
Auberge sucio y no acogedor.
Básico y sencillo. Capaz de dejar el equipaje a través del día sin problemas.
Buen hostal, practico, barato para londres
Lo que más me gustó y disfruté fue su ubicación.
Hotel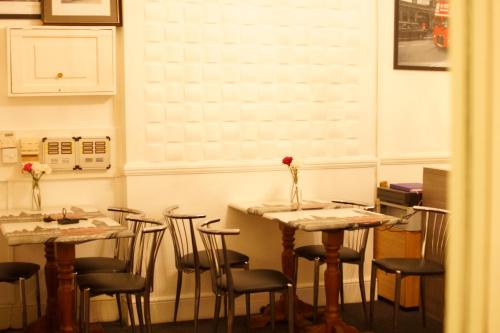 Este hotel se encuentra a menos de 800 metros de 3 estaciones de metro y ofrece habitaciones con conexión inalámbrica a internet gratuita.
Guest house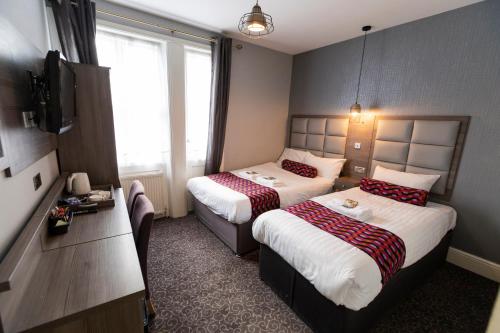 El Euro Hotel es un B&B de 3 estrellas con alojamientos amplios y luminosos situado en Hammersmith. Todas las habitaciones disponen de WiFi gratuita, TV vía satélite y baño privado individual.
Guest house
El Comfotel BLU está situado en el barrio londinense de Shepherd's Bush, a menos de 800 metros de la estación de metro de Hammersmith. Sirve todos los días un desayuno continental y dispone de conexión Wi-Fi gratuita y recepción abierta...
Guest house
El 23 se encuentra en la zona de West London, a solo 5 minutos a pie de la estación de metro West Kensington. Dispone de habitaciones con baño y de WiFi gratuita en las zonas de recepción.
Apartments
Situated in the very heart of Hammersmith, the Victorian buildings of So Sienna are firmly established as one of the finest serviced apartments in the west side of Central London, at 5 minutes by underground to the main London attractions....
Propietarios y administradores de propiedades
Registren ahora su hostal en nuestra nueva Extranet.