Quédate en el Albergue Safestay Elephant & Castle de Londres, y tendrás el Big Ben y las Houses of Parliament, el London Eye, Oxford Street y Leicester Square a menos de 15 minutos en metro. El Tate Modern, el National Theatre, el Imperial War Museum, el Acuario de Londres, el London Dungeon, el Shakespeare's Globe Theatre, el Kia Oval y el famoso Ministry of Sound están a menos de 1,5 millas del albergue.
Situado en el centro de Londres, estamos a pocos pasos del London Eye, Tower Bridge y London Dungeon. La estación de metro de London Bridge y Borough Markets, uno de los mejores y más extensos mercados de comida de Londres, están justo a la vuelta de la esquina. También puede dar un paseo por el río Támesis y más allá para visitar la catedral de San Pablo, la galería Tate Modern, la torre OXO, el muelle Gabriel's Wharf, el Instituto Británico de Cine, el Southbank Centre, el London Eye y el Parlamento.
He estado allí dos veces y volveré, está muy bien ubicado, limpio y no es muy caro. Las camas son muy cómodas, las habitaciones agradables y el personal muy amable. Solo lamenta no haber forma de cocinar o almacenar tu propia comida, pero bueno, no es lo más importante porque hay tiendas y restaurantes en todas partes y siempre puedes comer en el hall de entrada. ¡Recomiendo 100%!
Gran hostal donde puedes hacer grandes reuniones, bien ubicado e ideal para pequeños presupuestos.
Nos alojamos con nuestros 2 nietos. Todo salió como estaba previsto. La habitación 4 correspondió a nuestras expectativas. El personal competente y jovial nos dio el consejo que esperábamos. Casi nada malo, por el contrario.
Gran hospitalidad, habitaciones y baños limpios, camas cómodas.
Hostal muy limpio !! La excelente habitación, las duchas y los baños están bien mantenidos, no hay nada de que quejarse. El personal está ahí para nosotros. Sólo punto negativo, el precio del desayuno es demasiado caro ...
Para la corta estadía que hice este hostal me vino perfectamente. Ubicado cerca del centro de Londres, le permite visitar la ciudad a un costo menor. Es el lugar ideal para hacer turismo.
fue excelente
Extremadamente ruidoso para una familia con niños
Muy bienvenido, a pesar de una llegada tardía (2:30 a.m.). El personal es muy agradable y sonriente. Bonita habitación, limpia, así como el baño. Buenas ofertas para el restaurante y el bar del albergue + entretenimiento musical todas las noches. Tuvimos una gran estadía!
El albergue está bien si no te importa dormir en literas de 3 a 4 niveles. La ubicación es bastante conveniente, bien ubicada en el centro de Londres, a poca distancia de la estación de London Bridge, está muy cerca del London Bridge Borough Market. También hay un bar en la planta baja donde definitivamente puedes conocer a mucha gente. El bar y el albergue a menudo es frecuentado por compañeros de viaje y jóvenes, así que espera que sea un poco ruidoso y ruidoso a altas horas de la madrugada.
Situado en el corazón de la ciudad, estamos a pocos pasos del Ojo de Londres, Puente de las dos Torres y del mercado de alimentos más grande de Londres, Mercado Borough. Con el albergue a 2 minutos a pie de dos estaciones de metro, moverse por la ciudad no es más fácil.
La Torre de Londres está a 1.1 km - mientras que El Puente de Las Dos Torres está a 1.2 km. El Aeropuerto de la Ciudad de Londres está a 10 km de nuestro albergue. Southwark es una gran elección para viajeros interesados en caminatas por la ciudad, monumentos y cultura.
Excelente ubicación, bar justo debajo del hostal, un poco ruidoso
Buena estancia. El albergue está muy bien situado en comparación con el centro de la ciudad de Londres
El hotel se encuentra en una excelente ubicación, excelente comida, bar en la escalera, buena habitación y baños renovados. El personal es amable también!
El hostal está muy limpio. Hay un bar en la planta baja. Grandes armarios disponibles para guardar de forma segura su equipaje. El desayuno es agradable. Vale la pena gastar y quedarse aquí.
Me robaron la computadora en una habitación mixta con 12 camas. Por 10 € más la noche podría tener una habitación a 2 y más segura. Es en parte mi culpa. Lo que más me molestó fue que la gente de la recepción no hizo nada, no hizo nada para ayudarme, fue muy cobarde y deshonesto.
La propiedad estaba muy limpia. Me encantó la ubicación, barrio muy agradable, disfrutamos caminando. El personal era amable y atento. Gracias.
Camas limpias y cómodas, excelente ubicación, personal agradable, buena comida y ubicación. recomendaré
Hostal
El St Christopher's Inn Oasis - London Bridge dispone de bar restaurante y se encuentra en Londres, a 700 metros del puente de Londres. Todas las habitaciones son de uso exclusivo para mujeres y cuentan con baño compartido.
Hostal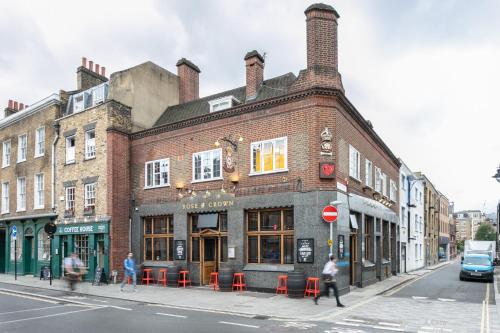 Publove @. El The Rose & Crown de Londres ofrece alojamiento solo para adultos con restaurante, bar y terraza. Cuenta con recepción 24 horas, mostrador de información turística y WiFi gratuita en todas las instalaciones.
Guest house
Este hotel boutique de estilo hispanoamericano se encuentra en Camberwell, bien comunicado por autobús con el centro de Londres. El establecimiento dispone de WiFi gratuita, bar de autoservicio y habitaciones atractivas.
Hotel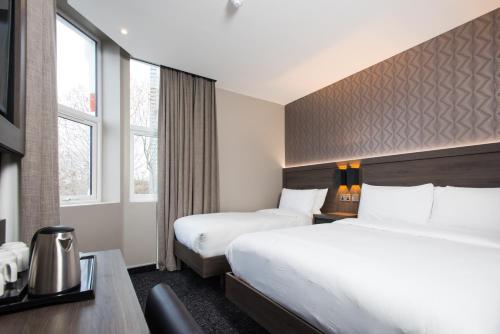 El Brit Hotels Elephant Castle está situado sobre una histórica casa pública, a menos de 5 minutos a pie de la estación de metro y tren de Elephant & Castle.
Propietarios y administradores de propiedades
Registren ahora su hostal en nuestra nueva Extranet.