Camden es el centro de Londres para la cultura alternativa y creativa. Estamos a solo minutos de Camden Markets, Regent's Park, Camden Locks y Primrose Hill.
Vivir la vida como un local de Londres. El Exmouth Arms, ubicado a 5 minutos de la estación de Euston y de la estación Euston Square, le brinda la oportunidad de mezclarse con los lugareños de Londres.
Manténgase bastante fresco, generalmente limpio, el único problema son las ventanas (acristalamiento simple y algunas imposibles de cerrar) mucho ruido por la noche. Super bien ubicado
Gracias a Steve por su amabilidad.
Me alojé aquí por 4 noches y no me gustó, la habitación era demasiado cálida, el área donde no hay sems para ser demasiado buena por la noche, pero la ubicación es perfecta y durante el día también la ciudad de Camden es increíble, el desayuno perfecto . y agradable stafd
El ambiente es cálido y acogedor, el equipo fue muy agradable y comprensivo, también muy útil. El alojamiento fue muy agradable. Estoy muy contento con mi estancia allí.
Bien situado cerca de Camden, personal limpio y agradable y buen ambiente.
¡Un albergue bastante moderno y el pub de abajo son buenos y amigables para pasar la noche, el desayuno o el almuerzo! Ubicación ideal porque no está lejos del centro y está bien comunicado con un precio bajo. Agradable para un fin de semana con amigos, para pasar una o dos noches entre visitas y buenos momentos. PERO el personal no es nada amable, el -20% no se aplica a una de nuestras comidas cuando se promete al alquilar ... Y lo más importante, teníamos una habitación privatizada para ¡8 personas pero alguien regresó a nuestra habitación a las 4 am, haciendo mucho ruido por negocios!
Estuvimos dos para dormir por una noche, muy cálida bienvenida, muy buena comida a precios asequibles, instalaciones sanitarias limpias y muy buena ubicación. No se encontró ningún problema durmiendo a las 8 en una habitación mixta. Suficiente para una noche o dos. El único aspecto negativo es el aislamiento acústico en la habitación con respecto al ruido fuera del albergue, pero por lo demás, estuvimos muy contentos con nuestra estancia allí!
Nada que ver con las fotos. La mala recepción en una hora tardía, estoy de acuerdo, pero esa no es una razón cuando hay alguien para eso. Los baños son habitaciones (sin lavar durante 3 días) En cuanto a la habitación ... Nada que ver con las fotos del sitio. 8 camas en una habitación de 15 m2. Pared mohosa, polvo y cortina cayendo ... Afortunadamente teníamos 7 y nos conocemos. Se debe evitar el pub. Lástima que la ubicación sea buena. Una sonrisa, la de la camarera rubia el día que nos fuimos.
Tuvimos una agradable estancia en PubLove. Las habitaciones y los diferentes equipos estaban limpios y correctos. Solo puede ser una tableta pequeña en las duchas, además del perchero no sería menos significativo. A pesar de todo el hostal y el pub de abajo fueron buenos.
La ubicación del albergue indicada por la aplicación es la opuesta a la ubicación real de este albergue. Resultado: sorpresa al llegar al aeropuerto, y cambio de programa en el último momento !! Ya no usaré esta aplicación de albergues juveniles.
A menos de 500 metros del Mercado Camden, el Albergue Smart Camden Inn está ubicado en el distrito de pubs y clubs de Camden. La estación de subterráneo de la ciudad de Camden está a tan solo 5 minutos caminado y ofrece acceso directo al centro de la Ciudad de Londres. El Museo Judío, Parque Regent y la central de Londres están todos a 15 minutos a pie. El Zoologico de Londres está a menos de 20 minutos a pie del Albergue Smart Camden.
Muy buen hostal y muy bien ubicado, muy agradables recepcionistas que nos han recibido. El albergue en sí es limpio, cocina compartida, excelente habitación (doctoir de 14 habitaciones) pero para saber con quién dormir porque la proximidad de la cama es bastante cercana, pero en general las personas viven sus vidas y son respetuosas. ¡Los casilleros cuestan solo 1 libra por día, lo cual es muy conveniente considerando el tamaño del casillero! (puede caber hasta 2 bolsas y más) El baño privado es muy pequeño y demasiado estrecho ... ¡pero por unos días será suficiente! ¡Este hostal se recomienda si te quedas en Londres por unos días y no estás allí el día!
Semana pasada del 7 al 14 de septiembre de 2018 muy muy bien! Ambiente cálido, personal siempre presente, citas limpias y seguridad muy alta dado el número de cámaras jaja :) ¡Lo recomiendo altamente!
Je regrette que les toilettes, la salle de bain et même la chambre (crottes de nez trouvé collé sur le plafond du lit) soient sales. Je regrette aussi beaucoup que le petit dejeuner ne soit pas du tout un réel petit dej anglais !! Pas de beans ! de bacon ! de sausage ! Juste un pti dej très simple, un jus d'orange qui se reproche plus de l'eau qu'un vrai jus d'orange. Sinon hotel idéalement situé et nickel côté tarif.
.
Bien situado!
Hostal
El Mornington Camden se encuentra en Londres, a 1,2 km del mercado de Camden, y ofrece bicicletas de uso gratuito y jardín. El establecimiento cuenta con terraza y está cerca de lugares de interés como el zoológico de Londres.
Guest house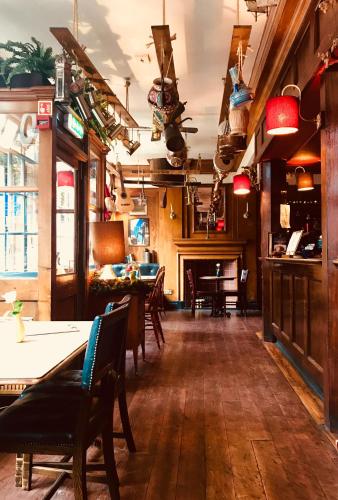 El establecimiento Prince Arthur se encuentra en pleno centro de Londres, encima de un pub, y está bien comunicado con la red de transporte público.
Hotel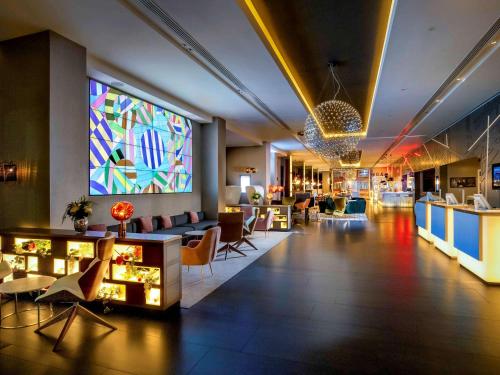 El Pullman St Pancras es un hotel de 4 estrellas situado a 3 minutos a pie de la terminal del tren Eurostar y a 5 minutos a pie de las estaciones de metro y tren de Kings Cross y Euston.
Hotel
After years of devoted restoration, the St Pancras Renaissance London Hotel is being hailed as the city's most romantic building. This 5 star hotel is located at St Pancras International Station and has direct access to London, the UK and...
Hotel
El Kings Cross Inn Hotel está situado frente a la estación de tren Kings Cross/St Pancras y está bien comunicado con el servicio internacional Eurostar, la red nacional de trenes y el metro de Londres.
Propietarios y administradores de propiedades
Registren ahora su hostal en nuestra nueva Extranet.